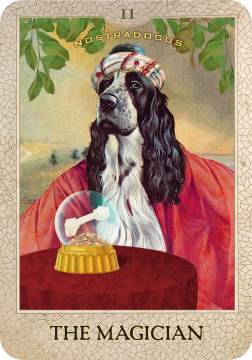 THE ORIGINAL DOG TAROT™: DIVINE THE CANINE MIND, an entertaining, colorful tongue-in-muzzle game of fortune-telling cards and booklet written for dog lovers, is being made available directly to specialty pet retail shops for the first time thanks to special arrangements with publisher Random House/Potter Style.
Having sold successfully in book stores and gift shops for the last 10 months, these hot-selling, beautifully illustrated cards were never officially marketed to pet retailers — until now!
"We realized we were missing out on a great opportunity to get the deck into the hands of the people who would value it most — pet owners," said Heidi Schulman, creator and author.
The 30 cards and accompanying booklet are a light-hearted take-off on traditional tarot but with a decidedly canine twist that includes cards such as "The Hydrant" and "The Kibble" as well as the all-knowing magician, Nostradogus. Each card offers advice for both canines and the humans in their lives.
Dog lovers don't have to know anything about traditional tarot to enjoy the canine enlightenment they'll get using the beautifully boxed set. It's a simple fun way for owners and their friends to have a great time and find out what their dogs think about life – and about them!
"THE ORIGINAL DOG TAROT™: Divine the Canine Mind" is now available to qualified pet retailers and distributors at the website, http://www.thedogtarot.com/wholesale/.