It was 11 degrees the other morning in Santa Fe and we'd had 8 and a half inches of snow if you trusted my guess about the amount accumulating around the pink plastic flamingo in the yard.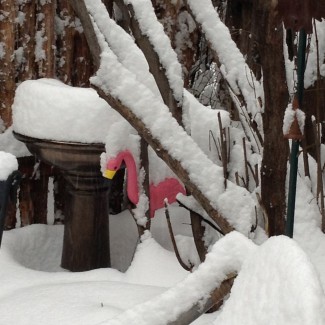 So I put on my wool tights, jeans, over-sized old boyfriend sweater, ginormous rubber boots, and zipped up my aging down alternative coat to get ready for a freezing dog park adventure with Tillie Marie. I didn't really want to go out. Who would? But what choice did I have?  The dog stared at me with a "what's up with that?" look  — you know the one –when I said "Tillie Marie, I love you but it's 11 degrees and we'll be miserable out there." Okay. Maybe it was 12 degrees, but as smart as TIllie is, so far she hasn't mastered reading numbers past 9. So off we went.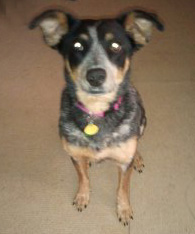 The car door was frozen shut so I ran a heavy duty extension cord from my hair dryer to unfreeze it, and in we piled, driving over seriously icy roads to one of Tillie's top-five happy-time destinations: the local dog park.
Fritz the Chihuahua was there, wearing a cozy tan fleece coat with a bright blue sweater underneath. Sparky Doodle was ready for anything, ever so handsome in his classy Pendleton, the choice of coat no surprise because his human, Gigi Mills, is a fantastic painter with a great fashion sense.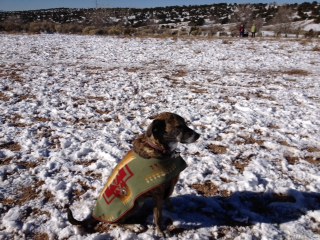 Tillie was naked: black, brown, and white heeler-mix naked.
She barreled towards her friends and didn't seem to notice she was coatless. But looking around at the festive canine coverings, I began to think I was a bad mother.
When we got home from the park, I called my vet.
"Does Tillie need a coat?" I asked.
"Are you planning on hiking the Appalachian Trail?" she said.
"Not today."
"Pitching your tent at the Everest base camp?"
I got the message. Abundantly clear since my vet knows that I am the first person in my family who has ever walked across a street. The assessment was a relief. Who had the money for a dog coat anyway? My disposable income had been disposed of long ago.
Still, about two hours later, I started to get restless, like a border collie who can't let go of the genetic drive to herd sheep. So I whisked Tillie into our now-unfrozen car and drove directly to one of our great local pet stores. They know me there because they carry The Original Dog Tarot.
"I'm looking for a coat for Tillie," I said.
I couldn't get over the idea of how cute Tillie would look in a coat. She might need it one day, when I took up sledding, or ice carving, or moved to Northern Canada.  So what if she didn't exactly need one today?  How many toys does your grandchild need? Can Elena's new baby really use a hand-knitted wool hat when she was born in August in southern Texas?
"Could we find something in pink?" I said to the saleswoman. I'd been hoping for a sweet fleece item, maybe with angel's wings attached because that's how I think of Tillie.
"That could be a little hard to find," said the saleswoman.
We couldn't find sweet and pink, so we went for sleek urban chic in a fantastic first-green-of-spring green.
"It fits her so well!" said the saleswoman.
The coat was warm. Sturdy. Fleece lined and waterproof. Machine washable on gentle cycle. Durable. Guaranteed.
"It will be perfect for long winter hikes," the saleswoman said. "It even has reflective edging, so you'll be able to see her in low light. You'll have it for years if you don't misplace it."
Tillie made her cold-weather-fashion debut the next morning at the dog park. It was 21 degrees and sunny when we arrived, and she bolted out of the car, barreling into the snow. The reflective edges really did show, just as the saleswoman promised.  Tillie wiggled like she always does, and was rolling around on her coat-covered back when we ran into one of the dog park regulars with her pack in tow.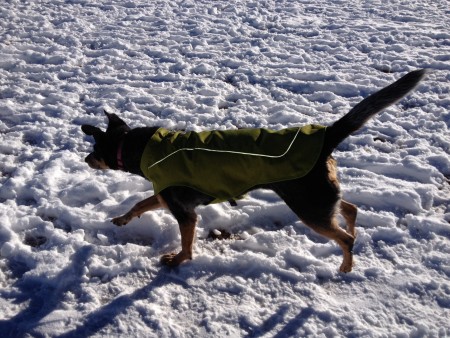 "Tillie doesn't look like she's enjoying that coat very much," the woman said, petting my dog, keeping her from playing.
Opinions. Welcome to my world.
"She seems fine to me," I said, as Tillie ran off to do a double-flip and run around in circles. "If she objected, she'd try to take it off; believe me."
"I don't think she needs it," the woman continued. "She has an undercoat, and dogs with undercoats don't really require extra protection."
Some people just don't get the poetry in life. This coat wasn't necessarily about physical warmth (though if Tillie got to stay out as long as she'd like, it could very well have turned  into that).  Whether Tillie needed the coat or not, I needed to give it to her.  The coat was about love, about  giving, about how wonderful it feels to do something, anything, for a creature that has opened your heart and loves you every day, and depends on you. Did your guests need a third helping of pie on Thanksgiving? Probably not. But as they groaned they were too full to get up from the table, you felt like a wonderful hostess.  You know it's true.
Giving Tillie the coat made me feel like a worthwhile loving human. Some things are all about the gesture.
Possibly you're thinking Tillie would have preferred some special bones and treats.  That's entirely possible.
Not to worry. I got her some of those, too.