Nostradogus took me shopping the other day.
"You need a new set of Tarot cards," he said.
I never argue with him. What's the point? He always gets important information before I do.
We went to The Ark, our favorite bookstore in Santa Fe, where we live. They know Nostradogus there.
We browsed and browsed and browsed.  Soon I felt a friendly dog paw nudging me on the leg.
"Buy these," Nostradogus insisted. It was a gorgeous deck — The Golden Tarot by Kat Black.
"Check out The Magician," Nostradogus said. "Look at all the cool animals."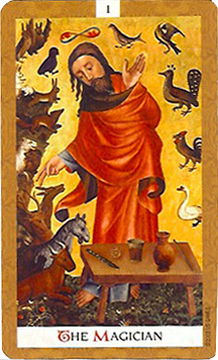 "Maybe we should have put humans swirling around me," Nostradogus said. "I would have liked that. It would have given people some clues about who's got the upper hand in human/dog relationships."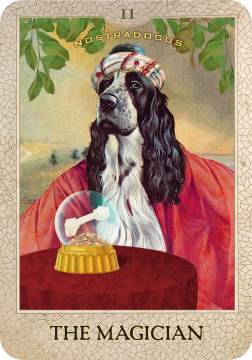 I guess when you're all-knowing, it's hard to be humble. But he could try, don't you think?