Chloe Atwater is an archaeologist who's doing a research project in sociology at the prestigious Santa Fe Institute. One night, while burning the midnight oil , she took a break to do a dog tarot reading for her adorable pooch Wally. How cute is this boy?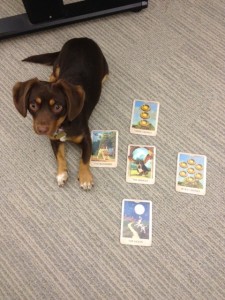 Wally's a rescue — a 10 month old dachshund mix Chloe adopted about 6 months ago.  Since he showed up in a box outside the Merced, California SPCA without a story, Chloe asked the Original Dog Tarot where Wally came from and who he is, deep down in his doggie heart.
She chose a 5-card reading and drew:  The Wanderer, 7 of Bowls, 3 of Bowls, The Moon and the Auricle.
Here's Chloe's interpretation.
"Since I asked where he came from, the wandering at the Foundation of the reading made sense. He also has that doxie tendency to be insanely stubborn and at the same time incredibly clingy as soon as I start to wander myself. The Bowls told me Wally has a happy and fulfilling home with me. The Moon told me he'd been longing for an exciting life before and now he definitely has it. He comes to work with me every day, goes to the dog park most days and gets hikes pretty much every weekend. The Auricle told me Wally has transitioned from his unknown past and is now my wise protector dog. He clearly thinks that's what he is. "
Nostradogus agrees completely with your interpretation, Chloe, and wishes you and Wally every happiness together.